What is Virtours?
Business areas
Virtours is Ikon's patented software solution for the creation, distribution and visualization of VR content using a single integrated platform. Virtours takes full advantage of the cloud architecture and adopts state of art technologies to offer the highest quality virtual experiences for your business.
The main areas of application for which Ikon has developed specific functions and customisation are:
Real Estate
Tourism
News
Culture
Education
Interior design
Marine Industry
FEEDBACK
Being able to enter – virtually – a building from 2000 years ago: Virtours adds real value to my work as an archaeologist and a researcher, making it immediately available and useful to everyone.

Prof. Jacopo Bonetto - Università di Padova

VR has opened up new avenues for the promotion of the Best Western hotel group and for a proper demonstration of each of its hotel's unique atmospheres: being able to assist and guide visor wearers via tablet is indicative of an order of magnitude increase in the device's potential and its transformation into a truly effective interactive business tool. For this reason we have chosen Virtours.

Best Western Italia

A unique solution in its genre, one that allows us to present in innovative fashion the properties we have for sale, while helping us to save time by selection with clients of the apartments they would like to visit.

RE/MAX Italia

We wanted an innovative solution to show, quickly and comprehensively, the potential of our locations to film directors and set designers. With Virtotours, we discovered a new way to present ourselves.

Film Commission FVG
An integrated solution – innovative tools and functions:
An integrated solution – innovative tools and functions:
Virtours Explorer


Use of content in
virtual reality

Virtours Controller


Navigation assistance
via tablet

Virtours Creator


Creation of virtual tours

Virtours Cloud


Server & CMS

Virtours Web


Exploitation of web content

Virtours Profilation


Registration and profilation
with dedicated analytics system

Virtours Follow up


Social sharing &
marketing automation
Virtours Explorer

Virtours Explorer allows for immersive viewing of content present on the platform (360° photo and video viewing – monoscopic and stereoscopic– and 3D rendering), allows for interaction with different types of hotspot for navigation through the various available scenes and for the activation of specific informative multimedia (texts, audio, photos, video). A system of intelligent caching scans at startup for new content in the cloud, then downloads and saves it locally on the device.

Virtours Controller

Virtours Controller, thanks to the pairing function between visor and tablet, allows an operator to reproduce in real time on the tablet the viewing experience of the VR visor user and to guide him or her during the immersive experience on how to get the most from specific elements of content. Thanks to this function, groups of users wearing a visor can also be guided by an operator using a single tablet.

Virtours Creator

Virtours Creator is the app dedicated to the autonomous creation of content by an operator using a tablet and 360 photocamera. The thus-created virtual tours can be augmented by the addition of navigation hotspots, information, photographic details, etc. At the end of the creation process, the application automatically transfers the content to the cloud server.

Virtours Cloud - Server & Cms

The Virtours cloud environment allows for the uploading and swift distribution of virtual tours within the network of devices registered on the platform. Thanks to the integrated Content Management System (CMS), it is also possible to upload content (360° photos and videos, both monoscopic and stereoscopic, text hotspots, audio, video, images, etc.) directly from a web interface and to manage/modify all of the tours generated by Virtours Creator.

Exploitation of web content

Virtours Web allows for viewing of the virtual tours via normal web browser in interactive panoramic mode. Scenes can be explored using the mouse by way of drag/rotate, zoom and click at the hotspots. The Virtours Web form can be easily integrated into the pre-existing website.

Virtours Profilation

The Virtours platform integrates a user registration and profilation form that allows for the collection of client data and for the tracking of the entire immersive experience, collecting precious information regarding the locations visited and among these the most visited. By way of a special dashboard, operators can view the collected statistical data, grouping them according to various criteria.

Virtours follow Up

During the immersive navigation, users can mark with a "like" their favourite content: thanks to the integrated social sharing form, such content can then be shared through the main social networks, allowing it to spread and perhaps go viral on the net. Specific marketing automation functions allow for the automatic sending of follow-up mail at the end of the virtual visit which reminds users of their preferred content and offers them the possibility to view it on the web in interactive panoramic mode.
WHAT'S BEEN WRITTEN ABOUT VIRTOURS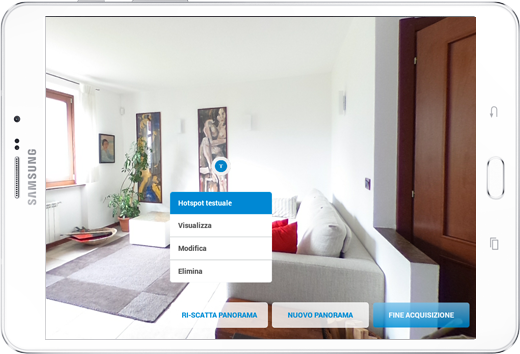 The operational flow
Virtours Creator
App dedicated to the autonomous creation of content by operators using tablets and 360° photocameras.
360° Photocamera
No mere photographs, but a truly first person experience.
Cloud Server & dedicated CMS
Upload and distribute virtual tours within the network. Manage and modify directly via web interface.
Virtours
A complete platform for the creation, publication and sharing of virtual tours.

Virtours Explorer
An innovative way to present environments and locations to one's clients.
Virtours Cardboard
Stereoscopic tours within reach of everyone
Virtours Web
Normal web browser viewing of virtual tours, in interactive panorama mode.
Is your company ready for Virtual Reality? Contact us for more information, ask for a demo or a quote. Large companies that have already chosen Virtours.
Some of our Clients